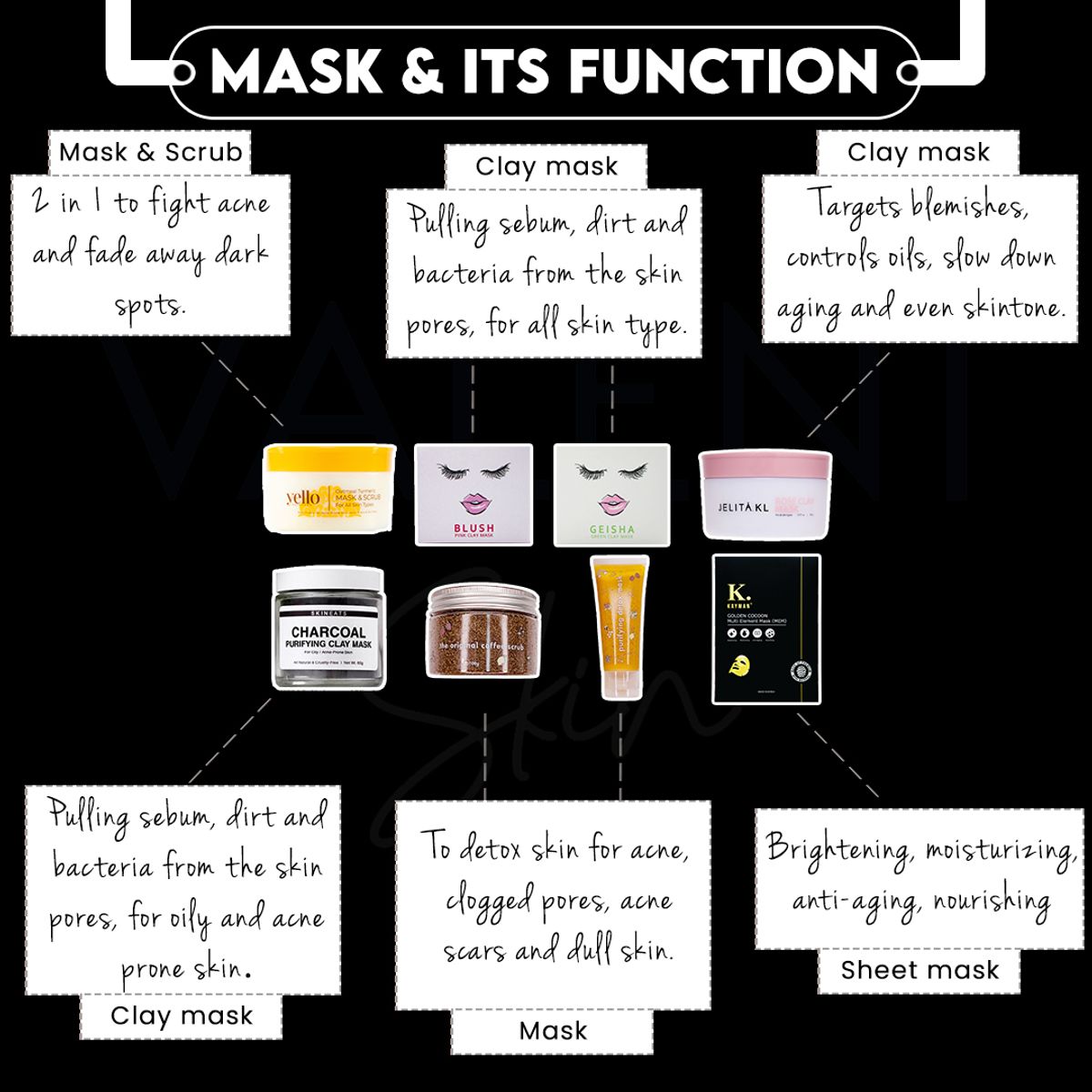 Jom Valora nak cerita a bit about mask dan function- nya yang ada di Valent Skin shop.

1. Yello Skincare, Oatmeal Mask & Scrub RM 39. Boleh dijadikan sebagai mask dan juga scrub. Boleh fight acne dan fade away acne scar.

2. Organika Beauty, Blush & Geisha Clay Mask RM 49. Adalah clay mask yang siap dibancuh dan soft to skin. Clay mask ini dapat tarik sebum, kotoran dan bakteria daripada pori kulit dan sesuai untuk all skin type.

3. Jelita KL, Rose Clay Mask new formulation RM 59. Clay mask ini perlu dibancuh. Boleh untuk bagi kita instant brightening pada kulit. Clay mask targets blemishes, controls oils, slow down aging and even out skin tone.

4. Kayman Beauty, Golden Cocoon Multi Mask RM 59. Sheet mask yang sangat fancy dan boleh fight banyak skin concerns. Sheet mask yang boleh brighten, moisturize, anti-aging and nourish.

5. Temyracle The Original Coffee Scrub RM 30 & Purifying Detox Mask RM 43. These mask boleh untuk detox our skin untuk acne, clogged pores dan parut jerawat.

6. SkinEats Charcoal Purifying Clay Mask RM 39. Clay mask yang perlu dibancuh untuk remove sebum, dirt and bacteria from the skin pores. Sesuai untuk oily dan acne prone skin.

Cepat dapatkan these products di Valent Skin Shop! Walk in to our shop to get all these atau purchase online di website: valentskin.com / Shopee: valentskin.